I went to Bar Camp Liverpool on Friday 18th November, and for a couple of hours on Saturday morning 19th November. For those of you who don't know what I'm talking about, a Bar Camp is an un-conference – that is, a conference without a pre-set schedule. The talks are given by the people who turn up. They add the name of their talk to a post-it and stick it in a free space on the schedule on the wall.
How To Podcast For Free
I was determined to get to this Bar Camp having missed the first one back in 2008(?). I was also determined to do a talk, so (hastily) prepared How To Podcast For Free. The number attending the event where low on Friday and there were only three people in for my talk. I did the same talk on Saturday morning and had a lot more there, which was encouraging.
I was asked by a number of people if I could make the slide available, so here they are. Just click on the image below to download it. I've added a few extra lines just so the slides without words actually make sense.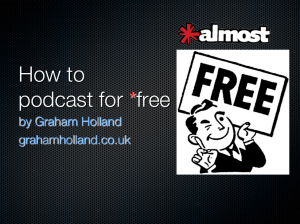 Search the site
Menu
Random Testimonial
~ Mike Holman (Multimedia Advisor, Runcorn CLC)

""Graham is an excellent e-learning teacher/consultant who has developed an amazing relationship with the people he has worked with over the past 4 years while at The Runcorn CLC. He has gained great respect though out the teaching establishment and with the pupils. Very knowledge on all things online and never happier trying to get a device working, he has been key to organising and delivering projects using various media types that other schools had never thought of using before to enhance and teach their lessons. Hard working, focused on the task with methodical planning, Graham has done a lot for education and the surrounding schools."

Mike Holman, Multimedia Advisor, Runcorn"
What's the little bird saying?