I went to Bar Camp Liverpool on Friday 18th November, and for a couple of hours on Saturday morning 19th November. For those of you who don't know what I'm talking about, a Bar Camp is an un-conference – that is, a conference without a pre-set schedule. The talks are given by the people who turn up. They add the name of their talk to a post-it and stick it in a free space on the schedule on the wall.
How To Podcast For Free
I was determined to get to this Bar Camp having missed the first one back in 2008(?). I was also determined to do a talk, so (hastily) prepared How To Podcast For Free. The number attending the event where low on Friday and there were only three people in for my talk. I did the same talk on Saturday morning and had a lot more there, which was encouraging.
I was asked by a number of people if I could make the slide available, so here they are. Just click on the image below to download it. I've added a few extra lines just so the slides without words actually make sense.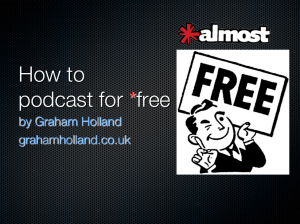 1 Comment to "Barcamp Liverpool 2011"
Search the site
Menu
Random Testimonial
~ Jen Garza (New York)

"Hi Graham, I don't normally write things like this but I love your podcast so much that I really felt like I should say thank you. I came across it accidentally while browsing through radio channels on iTunes a few months ago, and have been listening to it ever since. Thanks for taking the time to put together these absolutely beautiful collections of music. They help wake me up in the morning and put me to sleep at night. I'll be moving to London from NYC in a few weeks and I very much look forward to seeking out some of the artists you've introduced me to and attending their live performances! And maybe one day I will ask you to play something I've recorded... Thank you so much for this great podcast. Jen Garza, New York"
What's the little bird saying?