I went to Bar Camp Liverpool on Friday 18th November, and for a couple of hours on Saturday morning 19th November. For those of you who don't know what I'm talking about, a Bar Camp is an un-conference – that is, a conference without a pre-set schedule. The talks are given by the people who turn up. They add the name of their talk to a post-it and stick it in a free space on the schedule on the wall.
How To Podcast For Free
I was determined to get to this Bar Camp having missed the first one back in 2008(?). I was also determined to do a talk, so (hastily) prepared How To Podcast For Free. The number attending the event where low on Friday and there were only three people in for my talk. I did the same talk on Saturday morning and had a lot more there, which was encouraging.
I was asked by a number of people if I could make the slide available, so here they are. Just click on the image below to download it. I've added a few extra lines just so the slides without words actually make sense.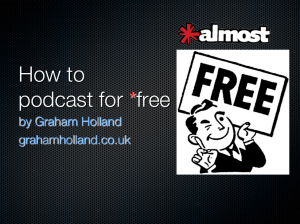 1 Comment to "Barcamp Liverpool 2011"
Search the site
Menu
Random Testimonial
~ Neil Campbell (Creative Campus Venue Manager)

""Graham has an excellent reputation as an event organiser and the series of acoustic evenings he is involved in managing and promoting have been extremely successful. He has developed an excellent network of music-lovers with which he maintains regular and high quality communication. He is also extremely supportive in promoting musical events (mainly acoustic in nature) within the North West, whether they are his events or not, with an underlying remit of supporting great music from whatever direction it is being organised." Neil Campbell, Creative Campus Venue Manager, Liverpool Hope"
What's the little bird saying?