Comments Off

on Come Strut Your Stuff
Created: 2006
Type of site: html/css
Template: Photoshop (designed by Matthew Rainford)
Built: Adobe Dreamweaver
Come Strut Your Stuff is a monthly open floor poetry and acoustic music event that takes place in the wonderful surroundings of Liverpool's Egg Cafe. I ran and co-hosted the event from 2000 to 2011, and started the website in 2006.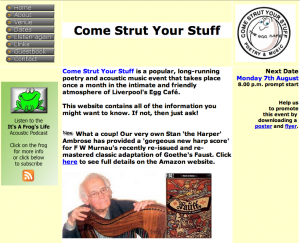 July 2006 – The first version was a very basic html version built by me using Dreamweaver. You can tell I'm not a designer!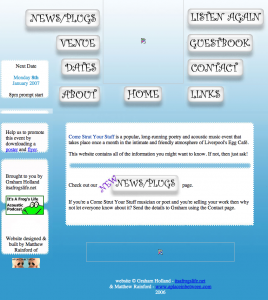 December 2006 – Matthew Rainford, one of the poets who used to attend this event, redesigned the site using a Photoshop template.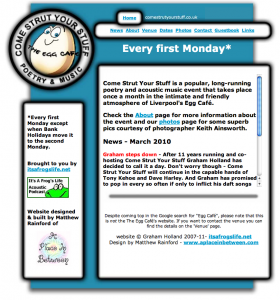 July 2007 – Matthew Rainford redesigned the website, again using a Photoshop template. This is the current design.
Search the site
Menu
Random Testimonial
~ Peter Cowley (Fatea Magazine)

"What a great evening! Graham Holland and his Liverpool Acoustic team have done it again! Tonight we had performances from four exceptionally talented artists, in the delightful ambience of the View Two Gallery, and all for the price of a couple of pints. I don't know how they do it! Peter Cowley, Fatea Magazine
What's the little bird saying?