Comments Off

on Instrumental Rewind
Started: May 2007
Type of show: instrumental acoustic music
Frequency: occasional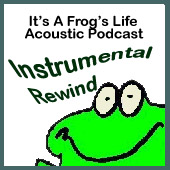 The Instrumental Rewind is an occasional show that features full versions of the instrumental acoustic tracks previously played as bedding music on the It's A Frog's Life Acoustic Podcast.
There is some fantastic instrumental music out there which doesn't often get heard on podcasts, and very rarely (if ever) on the radio, so this show is my way of showcasing it to a wider audience.
Each show it put together once I've collected eight bedding tracks from the main show. It is published as a normal episode of the It's A Frog's Life Acoustic Podcast but is also available in its own feed via the website and iTunes.
Search the site
Menu
Random Testimonial
~ Fraser McGregor

"Just found the website. Having only played Liverpool twice, and struggling to get stage time I will find this site very useful, just what I was looking for. Hopefully after playing a few more open mic nights in and around the city i will find the venues that best fit my music... Hoping to find down to earth warm venues. This site will definatly help with open mic diary, it's exactly what I was looking for. Fraser McGregor"
What's the little bird saying?