Started: May 2007
Type of show: instrumental acoustic music
Frequency: occasional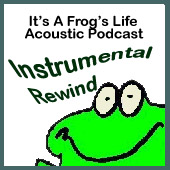 The Instrumental Rewind is an occasional show that features full versions of the instrumental acoustic tracks previously played as bedding music on the It's A Frog's Life Acoustic Podcast.
There is some fantastic instrumental music out there which doesn't often get heard on podcasts, and very rarely (if ever) on the radio, so this show is my way of showcasing it to a wider audience.
Each show it put together once I've collected eight bedding tracks from the main show. It is published as a normal episode of the It's A Frog's Life Acoustic Podcast but is also available in its own feed via the website and iTunes.
Search the site
Menu
Random Testimonial
~ Phil and Meryl Browning

"Just wanted to let you know how much we (and our friends Chris and Tina) enjoyed our night out at the View Two Liverpool Acoustic gig. As ever, a cracking group of talented artists in a lovely, friendly atmosphere. I can only imagine the hard work that goes into these special occasions and you guys deserve a big pat on the back for providing all your guests with a top night out! Phil and Meryl Browning - regular attendees at the Liverpool Acoustic"
What's the little bird saying?