Started: July 2006
Type of show: acoustic music
Frequency: monthly
Other portfolio entry: website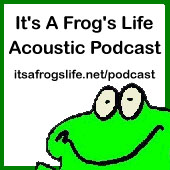 The It's A Frog's Life Acoustic Podcast is my first show. Started in July 2006, it features some of the best unsigned, independent and podsafe acoustic music from across the UK and around the world.
Because of copyright laws I can only play music that I have permission for. Fortunately there are hundreds of musicians who own the copyright to their music and are more than willing to let me share it with the rest of the world in exchange for a little bit of extra exposure and free publicity. Also, there are some websites where 'podsafe' and creative commons music is available for podcasters to use.
The show became accepted as a member of the Association of Music Podcasting in October 2006. In 2009 the show came second in the music category of the Podcast Peer Awards.
For five and a half years the show only played acoustic music from the UK (with occasional journeys overseas). In February 2012 the format was changed from just UK music to artists from around the world, and the number of tracks in each show was increased from eight to ten.
1 Comment to "It's A Frog's Life Acoustic Podcast"
Search the site
Menu
Random Testimonial
~ Luke Moore (The Fifth Movement)

"Great site-  has everything you need to keep those tired fret-worn fingers on the pulse of one of the world's most musical cities. Keep up the good work! Luke Moore-cello/piano The Fifth Movement"
What's the little bird saying?