Created: 2006
Type of site: WordPress
Theme: Suffusion
Other portfolio entry: podcasting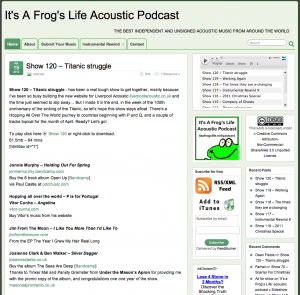 The current version of the It's A Frog's Life Acoustic Podcast's shownotes page was launched on its WordPress platform in February 2012. Not only did this give me ownership of the site (it was previously on Blogger) it also enabled me to host it in the itsafrogslife.net/podcast sub folder for the first time.
The new format has made it easier for me to add pages and side bar widgets, and the use of categories has made it possible to host the Instrumental Rewind show on the same site (it had previously been on a separate Blogger site).
Before I started the It's A Frog's Life Acoustic Podcast in July 2006 the first attempt at a shownotes page was on a Bravenet blog. Unfortunately the RSS feed only contained a summary of each post and (more importantly) removed the link to the audio file.
When the show eventually launched it was on a Blogger site which I hosted on a subdomain at podcast.itsafrogslife.net using a CNAME DNS setting. I set up a simple forwarding page that directed visitors there from itsafrogslife.net/podcast
1 Comment to "It's A Frog's Life Acoustic Podcast"
Search the site
Menu
Random Testimonial
~ Fraser McGregor

"Just found the website. Having only played Liverpool twice, and struggling to get stage time I will find this site very useful, just what I was looking for. Hopefully after playing a few more open mic nights in and around the city i will find the venues that best fit my music... Hoping to find down to earth warm venues. This site will definatly help with open mic diary, it's exactly what I was looking for. Fraser McGregor"
What's the little bird saying?