Comments Off

on It's A Frog's Life In Taiwan
Created: 2004
Type of site: static html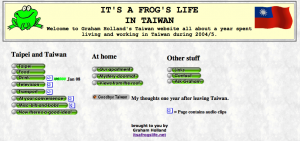 I spent a year living and working in Taiwan from 2004 to 2005. One of the things that kept me occupied (apart from working, eating fantastic food, and watching HBO) was putting together a little website documenting some of my observations about living in such an exciting and vibrant country. This website was run alongside my Bravenet blog (available here, but no longer active) which focused more on my day-to-day observations and reviewing books I'd read.
The website is now, of course, hideously out of date, but I've kept it as a record of my time in Taiwan. I still get the occasional email about it.
I particularly enjoy the sound clips, and the coffee logo section. Why not check it out?
Search the site
Menu
Random Testimonial
~ Nigel Paice (Owner, madbouncydogs.com)

""Graham continues to be a leading light in the Liverpool Acoustic music scene. I have worked with Graham on a number of occasions and each time it has been a pleasure. I would recommend him without reservation."

Nigel Paice, Owner,
What's the little bird saying?