Comments Off

on Operation Icicle
Created: 2000
Type of site: static html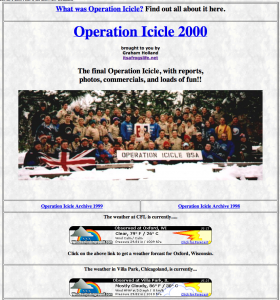 As mentioned on the Good Book of Peter Henry page, I took part in Operation Icicle in 1998 and 2000. This was a winter survival camp held at Camp Freeland Leslie in Oxford, Wisconsin from 26th December to 1st January. During the event a daily newspaper was produced by some of the Scouts attending the camp. I took the newspapers from the two years I attended, and the year I missed in between, and turned them into a website. As you can see from the photos, it was cold. Very cold. But lots of fun too!
Search the site
Menu
Random Testimonial
~ Fraser McGregor

"Just found the website. Having only played Liverpool twice, and struggling to get stage time I will find this site very useful, just what I was looking for. Hopefully after playing a few more open mic nights in and around the city i will find the venues that best fit my music... Hoping to find down to earth warm venues. This site will definatly help with open mic diary, it's exactly what I was looking for. Fraser McGregor"
What's the little bird saying?