Comments Off

on Above The Beaten Track
Created: 2011
Type of site: WordPress
Theme: Fullscreen
Above The Beaten Track is a grass-roots music festival that takes place in Liverpool. Co-ordinated by Mellowtone and their media partners, it started in 2008 at the View Two Gallery on Mathew Street before moving to the Bluecoat Arts Centre in 2010 when Liverpool Acoustic became involved.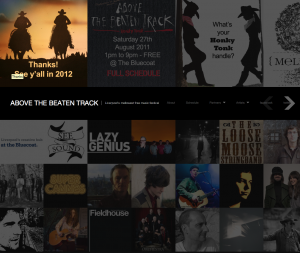 In 2011 I volunteered to set up a website for Above the Beaten Track, and it really became something of a labour of love. After settling on the Fullscreen WordPress theme I had to create custom sized graphics for all of the artists and organisations taking part, and make sure they were published in the correct order so that the partners had prominence in the larger tiles at the top of the homepage.
I also had to work out how to alter the coding to make the site two columns wider and one row deeper.
Search the site
Menu
Random Testimonial
~ Jen Garza (New York)

"Hi Graham, I don't normally write things like this but I love your podcast so much that I really felt like I should say thank you. I came across it accidentally while browsing through radio channels on iTunes a few months ago, and have been listening to it ever since. Thanks for taking the time to put together these absolutely beautiful collections of music. They help wake me up in the morning and put me to sleep at night. I'll be moving to London from NYC in a few weeks and I very much look forward to seeking out some of the artists you've introduced me to and attending their live performances! And maybe one day I will ask you to play something I've recorded... Thank you so much for this great podcast. Jen Garza, New York"
What's the little bird saying?