Created: 2011
Type of site: WordPress
Theme: iFeature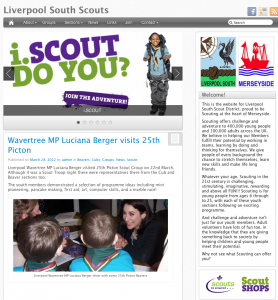 Liverpool South Scout District was formed in April 2010 following the amalgamation of Picton and Allerton Districts with Halewood (formally in Knowsley District).
I built Picton District's website in 2006 using a basic html/css template. When the new District was formed I volunteered to take on the role of web manager. I wanted a site that other members could log onto and create news content and I settled on a WordPress website.
The first version of the website used a custom-built UK Scouting theme, which looked good visually but which had a number of limitations, particularly over the way it handled news posts.
I moved the site to the iFeature theme which is much more adaptable to our needs. Adopting this new theme meant I had to create my own set of Scouting graphics and images to fit the slider on the homepage.
Search the site
Menu
Random Testimonial
~ Jen Garza (New York)

"Hi Graham, I don't normally write things like this but I love your podcast so much that I really felt like I should say thank you. I came across it accidentally while browsing through radio channels on iTunes a few months ago, and have been listening to it ever since. Thanks for taking the time to put together these absolutely beautiful collections of music. They help wake me up in the morning and put me to sleep at night. I'll be moving to London from NYC in a few weeks and I very much look forward to seeking out some of the artists you've introduced me to and attending their live performances! And maybe one day I will ask you to play something I've recorded... Thank you so much for this great podcast. Jen Garza, New York"
What's the little bird saying?