Created: 2011
Type of site: WordPress
Theme: iFeature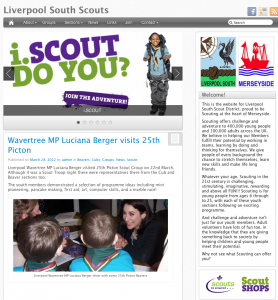 Liverpool South Scout District was formed in April 2010 following the amalgamation of Picton and Allerton Districts with Halewood (formally in Knowsley District).
I built Picton District's website in 2006 using a basic html/css template. When the new District was formed I volunteered to take on the role of web manager. I wanted a site that other members could log onto and create news content and I settled on a WordPress website.
The first version of the website used a custom-built UK Scouting theme, which looked good visually but which had a number of limitations, particularly over the way it handled news posts.
I moved the site to the iFeature theme which is much more adaptable to our needs. Adopting this new theme meant I had to create my own set of Scouting graphics and images to fit the slider on the homepage.
Search the site
Menu
Random Testimonial
~ Mike Holman (Multimedia Advisor, Runcorn CLC)

""Graham is an excellent e-learning teacher/consultant who has developed an amazing relationship with the people he has worked with over the past 4 years while at The Runcorn CLC. He has gained great respect though out the teaching establishment and with the pupils. Very knowledge on all things online and never happier trying to get a device working, he has been key to organising and delivering projects using various media types that other schools had never thought of using before to enhance and teach their lessons. Hard working, focused on the task with methodical planning, Graham has done a lot for education and the surrounding schools."

Mike Holman, Multimedia Advisor, Runcorn"
What's the little bird saying?