Created: 2011
Type of site: WordPress
Theme: iFeature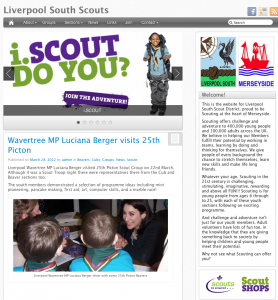 Liverpool South Scout District was formed in April 2010 following the amalgamation of Picton and Allerton Districts with Halewood (formally in Knowsley District).
I built Picton District's website in 2006 using a basic html/css template. When the new District was formed I volunteered to take on the role of web manager. I wanted a site that other members could log onto and create news content and I settled on a WordPress website.
The first version of the website used a custom-built UK Scouting theme, which looked good visually but which had a number of limitations, particularly over the way it handled news posts.
I moved the site to the iFeature theme which is much more adaptable to our needs. Adopting this new theme meant I had to create my own set of Scouting graphics and images to fit the slider on the homepage.
Search the site
Menu
Random Testimonial
~ Mike Hegarty

"Just found your website due to the article in last night's Echo. Brilliant. Love all things acoustic. Been away for a long time so will now be able to sample the acoustic delights of the Pool of Life at my leisure.  Boss man. Keep this going. Mike Hegarty"
What's the little bird saying?