Comments Off

on City of Manchester Opera
Created: 2011
Type of site: WordPress
Theme: iFeature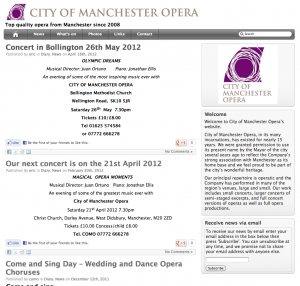 City of Manchester Opera is the opera company my friend Eric Cymbir sings with.
I volunteered to create a new website for them that was easy to update and more visually appealing. I tried a number of different WordPress themes before settling on iFeature. I am using this theme with the slider turned off at the moment to increase the visibility of the main news stories, and to remove the need for custom-sized photos and images to be created.
The news feed is linked with feedburner to allow people to subscribe via email.
Search the site
Menu
Random Testimonial
~ Colin Maddocks (Grateful Fred's)

"I must say that the Liverpool Acoustic site is a fantastic resource for musicians, audiences and organisers alike. When I first became interested in acoustic and folk music years and years (!) ago almost everything was by word-of-mouth and you would miss so much. The Liverpool Acoustic website is a fantastic way to keep in touch with great music in Liverpool and the North West. Keep up the great work!! Colin Maddocks - Grateful Fred's Roots and Acoustic Night"
What's the little bird saying?