Comments Off

on It's A Frog's Life
Created: 2006
Type of site: WordPress
Theme: Imbalance2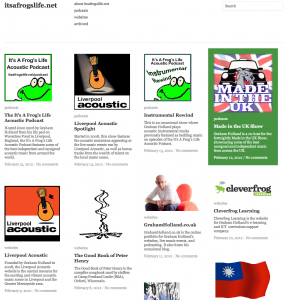 When I registered itsafrogslife.net in 2006 I set the web domain to forward to graham.itsafrogslife.net which hosted a website all about me. In retrospect it was somewhat egocentric, although it utilised the 1&1 website builder so at least it looked cool! It contained a light-hearted life history, information about my songwriting and Scouting, and a 'why the frogs?' page.
During 2011 I started the process of moving my websites and domains from 1&1 to my current web host justhost.com. When it came to moving itsafrogslife.net I knew I couldn't take the old site with me (I'd outgrown it anyway) so set up a simple WordPress site with links to my personal websites and podcasts. Nothing flash, nothing fancy, no witty banter about growing up in the 1970s, just links. Nice.
And if you're still desperate to know where the domain name came from you can find the answer here.
Search the site
Menu
Random Testimonial
~ Emma Harvey (Modo bar)

"This site is fantastic. I will definitely be using the site more! Thanking you kindly. Emma Harvey, Modo Bar,"
What's the little bird saying?