Comments Off

on Liverpool Acoustic
Created: 2008
Type of site: WordPress
Theme: Caulk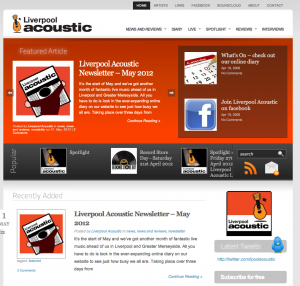 This is my baby – the website I'm most proud of!
The Liverpool Acoustic website was created in 2008 as a central location where people could find out about the local acoustic music scene in Liverpool and Greater Merseyside.
The current version (v3) was launched in April 2012 on a WordPress platform and for the first time brought together the news and reviews items and the Spotlight show into the main body of the website (each having previously been hosted on separate Blogger sites).
I searched for a long time before I found the theme that I wanted for the news-look Liverpool Acoustic site. Caulk has a 'featured article' slider at the top, two 'sticky' posts at the side, and 'popular' articles beneath them. The 'Social' plugin enables visitors to comments using Twitter and Facebook profiles, publishes content to both these sites, and searches for social comments and retweets. Latest Tweets are shown in the right-hand side bar, as are subscription links to the News and Reviews service, and the Liverpool Acoustic Spotlight.
Moving all the previous News and Reviews items from Blogger into WordPress has enabled me to create new user profiles for the different authors and to allocate their articles to them. The WP Biographia plugin adds author information to the bottom of each post, and the Simple Local Avatars plugin allows users to add their own avatar image. Akismet protects the site from spam comments, and WP Touch makes the site accessible on smart phones.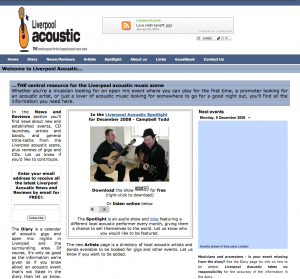 Version 1 (above) from 2008 was based on a free html/css template. The online diary was a Google calendar embedded as a full page month-to-view on the Diary page, and as a smaller agenda view on the front page.
Both the News and Reviews and the Liverpool Acoustic Spotlight were hosted on separate Blogger sites and were incorporated into the main site using an iFrame function.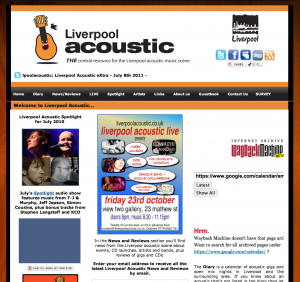 Version 2 of the website (above) was introduced in January 2010 and involved adding a new design, graphics and logo to the Version 1 template. The new designs were provided by James Wafter at Bluewhistle Creative.
Search the site
Menu
Random Testimonial
~ Luke Moore (The Fifth Movement)

"Great site-  has everything you need to keep those tired fret-worn fingers on the pulse of one of the world's most musical cities. Keep up the good work! Luke Moore-cello/piano The Fifth Movement"
What's the little bird saying?