Comments Off

on Liverpool Acoustic View Two Songwriting Challenge
Created: 2011
Type of site: WordPress
Theme: iFeature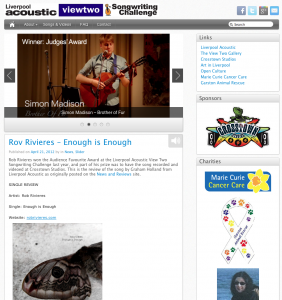 The Liverpool Acoustic View Two Songwriting Challenge is a songwriting competition I ran in Autumn 2011 as part of Liverpool Acoustic's calendar of live music events. The plan is to make it an annual event, although I'll be changing the format slightly for 2012's competition.
I created a separate website for the event to make it easier for people to find the information they needed without it getting lost among the news items on the main Liverpool Acoustic website.
I'd used the iFeature theme for the Liverpool South Scout District website and knew that the top image slider was visually impressive. I created all the custom graphics for the website, and will be updating it during the summer in preparation for the next competition.
Search the site
Menu
Random Testimonial
~ Phil and Meryl Browning

"Just wanted to let you know how much we (and our friends Chris and Tina) enjoyed our night out at the View Two Liverpool Acoustic gig. As ever, a cracking group of talented artists in a lovely, friendly atmosphere. I can only imagine the hard work that goes into these special occasions and you guys deserve a big pat on the back for providing all your guests with a top night out! Phil and Meryl Browning - regular attendees at the Liverpool Acoustic"
What's the little bird saying?